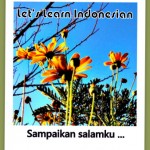 Salam (Di Halte Bis) =
Greetings (At the Bus Stop)
Laura: Hai, Steve. Lama 

tak

 jumpa. 

Gimana

 kabarnya?
Laura:

Hi, Steve. Long time not see. How are you? 

Steven: Hai Laura. Biasa-biasa saja. Dan kamu?
Steven: Hi Laura. So-so. And you?
Laura: Aku juga biasa-biasa saja. Apakah orangtuamu baik-baik saja?
Laura: I'm so-so too. Are your parents well?
Steven: Ya, mereka baik-baik saja. 

Gimana

 dengan orangtuamu?
Steven: Yes, they're very well, thank you. How about yours?
Laura: 

Mama

ku sehat-sehat, tapi

 papa

ku sedang sakit.
Laura: My mother is fine, but my father is sick.
Steven: Ah, sayang sekali. Apakah sakitnya keras?
Steven: Oh, what a pity. Is it serious?
Laura: Tidak, 

Papa

 

cuma

 tidak enak badan. Mungkin terkena selesma.
Laura: No, he just doesn't feel well. Perhaps he catches cold.
Steven: Oh 

gitu

? Mudah-mudahan cepat sembuh ya.
Steven: Oh is that so? Hope for a speedy recovery.
Laura: 

Makasih

. Kamu mau kemana?
Laura: Thank you. Where do you go?
Steven: Aku mau pulang. Ini dia, bisku sudah datang. Sampaikan salamku 

sama

 keluargamu.
Steven: I'm going home. Here it is, my bus has come. My regards to your family.
Laura: Ya. Sampaikan salamku 

sama

 orangtuamu juga ya. Sampai jumpa lagi!
Laura: I will. Please pass my regards to your parents too. See you again.
tak (inf) = tidak
gimana (inf) = bagaimana
mama (inf) = ibu
papa (inf) = bapak
cuma (inf) = hanya
gitu (inf) = begitu
makasih (inf) = terima kasih
sama (inf) = kepada