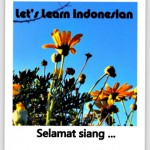 Salam (Siang Hari di Kantor Guru) = Greetings (Day Time at the Teacher Office)
Laura: Halo. Selamat siang, Bu.
Laura: Hello. Good day, Miss.
Ms Abraham: Halo. Selamat siang, Laura. Apa kabarmu?
Ms Abraham: Hello. Good morning, Laura. How are you?
Laura: Baik-baik saja, Bu. Dan bagaimana kabar Ibu?
Laura: Fine, thanks. And how are you?
Ms Abraham: Juga baik. Orangtuamu, baik-baik saja, bukan?
Ms Abraham:

I'm well too, thanks. Your parents are very well, I hope.

Laura: Ya, begitulah. Mereka baik-baik saja.
Laura: Yes, indeed. They're very well.
Ms Abraham: Syukurlah. Ada yang perlu saya bantu?
Ms Abraham: I am pleased. Is there anything I can help you?
Laura: Ya, Bu. Hari ini saya tidak bisa hadir di kelas Bahasa Indonesia karena saya ada latihan drama.
Laura: Yes, Miss. Today I won't be in the Indonesian class because I have a drama practice.
Ms Abraham: Baiklah. Apakah kamu sudah menyelesaikan Pekerjaan Rumahmu?
Ms Abraham: Okay. Have you done your homework?
Laura: Ya, sudah, Bu. Ini PRnya.
Laura: Yes, I have, Miss. Here it is.
Ms Abraham: Bagus. Harap pelajari bab selanjutnya yaitu tentang Kartini dan hapalkan kosakatanya ya.
Ms Abraham: Good. Please learn the next chapter which is about Kartini and memorise the vocabulary.
Laura: Baik, Bu. Maaf, saya harus pergi sekarang. Sampai jumpa, Bu.
Laura: Alright, Miss. Sorry, I have to go now. See you, Miss.
Ms Abraham: Sampai jumpa.
Ms Abraham: See you.